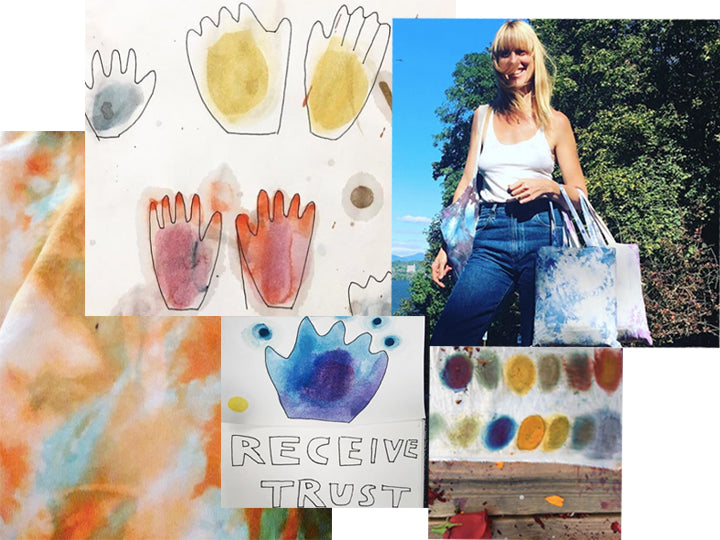 Interview With Lisa Levine: Featured Artist and Collaborator
We are so excited to be featuring the one-of-a-kind hand-dyed textiles of artist, healer, and entrepreneuer Lisa Levine in our first batch of ARTbutt undies!  You can see her limited edition collaboration in the ARTbutt mesh panties here.  As the founder of Maha Rose Center for Healing, Lisa weaves art into her healing practice and healing into her art practice.  Her work is free, vibrant, and joyful, and just plain fun to look at!  Read on to learn more about Lisa and her creative process below:
It seems that your current creative interests are working mostly with textiles and dyes whereas in the past you worked mainly in jewelry, is that correct?  Can you tell us a little about what motivated this shift, or how your interest and choice of different mediums informs your work?

My main creative outlet these days is dyeing. My first art mediums were painting and then jewelry. I still make some jewelry but they are all such different creative processes. Jewelry is so meticulous, whereas dyeing, the way I work is a lot more chaotic. I am not very scientific about it so the results are more of a surprise. You have to have some detachment and trust the process. If something doesn't come out well, you can layer it again. Jewelry you get one chance and you know what the result should look like. Metal is less forgiving than fabric. Having become a mother three years ago dyeing actually works well juggling all the other things I do. I go out, mix dyes and make messes for a couple of hours then leave things to soak or marinate for some time. 

In addition to creating beautiful things, you also co-founded and currently run Maha Rose, a community healing center in Greenpoint.  Can you share any career highlights or challenges from this experience, and what you learned from them?

Wow, we opened officially six years ago and it has been such an amazing journey. I've learned so much and am continuing to learn every day. Last year we expanded our space from 1500 to 3000 square feet and that has been so fun. The expansion and renovations were challenging but now that it is finished we have so much more space to stretch into and play in. It's a luxurious feeling living in New York City to feel spaciousness. We were busting at the seams before the renovations and now we are allowing our auras to expand into more space. It's created space to grow into.

Can you tell us a little bit about your background and what drew you to both art and healing in general? Do you remember some of the formative experiences that led you in these directions?

I think I've always been both, an artist and a healer. I have early memories of massaging my teacher and my mom, probably in kindergarten, having that hand healing connection from a young age. I also loved art from a young age. Art was and still is my healing practice, whether its painting, making jewelry or dyeing. These practices are so meditative for me.

What's a normal, run-of-the-mill day like for you? Are you a person of routine, and if so, what is that like?

Not a whole lot of routine and many things to do in a day. An ideal day would have me waking up before my son to meditate, then breakfast, then working on Maha Rose, the computer cerebral work, then the right brain healing parts with clients, maybe some time for my creative work, then family and friends time, dinner and kinda early to bed. It's a full and very beautiful life. I am grateful. That's an ideal day, it often doesn't happen like that..

What's the last thing you saw/read/heard that changed the way you think or feel?
I think the last book that really moved me was The Body Keeps the Score, by Bessel van der Kolk. A book about healing trauma in the body and mind.